Financial Services for Solicitors: Law, Practice and Precedents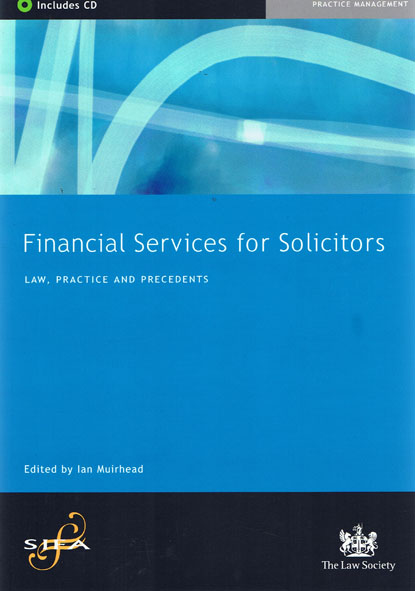 ISBN13: 9781853287541
Published: March 2009
Publisher: Law Society Publishing
Country of Publication: UK
Format: Paperback & CD-ROM
Price: £96.50

Wildy's Book of the Month - March 2009
One of the challenges to solicitors posed by the Legal Services Act is that of reducing reliance on transactional business and building enduring client relationships.
A business area which commends itself as complementing solicitors' mainstream work is financial advice, and the more enterprising firms are increasingly seeking to align with fee-based financial advisers to provide a more comprehensive client service.
Financial Services for Solicitors explains the pros and cons of the various forms of association between solicitors and financial advisers and describes fifteen areas of business in which solicitors' advice may be incomplete without the input of a financial adviser.
Part 1 explains the structural changes permitted by the Legal Services Act; relevant Law Society and FSA regulation; tax, accounting and legal issues; and the alternative forms of association between solicitors and financial advisers, including joint ventures and separate businesses.

Part 2 details some of the business areas in which financial services impact solicitors' work, including investment for trusts and for clients who lack mental capacity; the treatment of pensions on divorce; advice to the elderly; tax planning for expatriates; personal injury trusts; pensions for business owners and estate planning.
Part 3 provides practical compliance and marketing precedents, which are reproduced on an accompanying CD-ROM for ease of use.

This authoritative book has been edited by Ian Muirhead of SIFA, a solicitor, and the contributors include leading financial advisers, accountants and solicitors.