Mortgage Possession Proceedings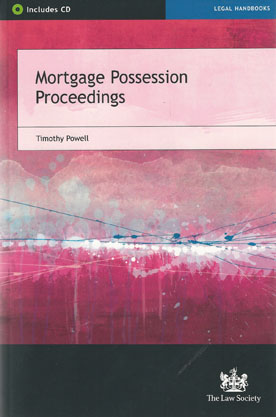 ISBN13: 9781853289224
Published: December 2011
Publisher: Law Society Publishing
Country of Publication: UK
Format: Paperback & CD-ROM
Price: £75.00

The level of mortgage possession proceedings is expected to rise over the coming months. It is important that practitioners advising parties involved in proceedings understand recent developments that have impacted the way in which proceedings and the negotiations before court are handled.
Mortgage Possession Proceedings explains the different types of mortgage product available, the law and guidance governing the rights of the parties under these agreements, and the court's powers. The author, an experienced practitioner in the field, discusses the issues arising from:-
an all monies mortgage
tenants of borrowers
a shared ownership property
joint owners
those with an equitable interest in the property
borrowers with negative equity
bankruptcy.
The book takes account of developments in the area affecting proceedings, including the:-
mortgage pre-action protocol (part of the Civil Procedure Rules)
mortgage possession checklist
Mortgage Rescue Scheme
Homeowners Mortgage Support
Law Society's mortgage repossession practice note
Mortgage Conduct of Business Rules
Mortgage Repossessions (Protection of Tenants etc.) Act 2010.
The comprehensive appendix offers extracts from relevant law and a collection of useful precedents.