SWOT: Law of Evidence 4th ed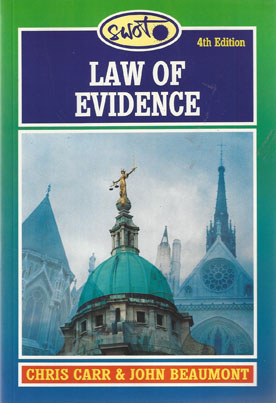 ISBN13: 9781854314864
ISBN: 1854314866
Published: April 1996
Publisher: Oxford University Press
Country of Publication: UK
Format: Paperback
Price: Out of print

Intended as a study aid for law students, covering law subjects at every level from A level and degree level to Law Society and Bar exams, this book on EC law is part of the SWOT series. SWOT's point out the problems which will be encountered by the student throughout the course, indicating the common pitfalls which contribute to under-achievement or failure in exams.
The books in the series are written by experienced law lecturers who are themselves examiners. Years of watching students make the same mistakes time after time have convinced them that these mistakes could be avoided if students followed a carefully structured approach to exam technique. SWOT's enable readers to face their exams with confidence and increase their chances of success.
This edition has been updated to cover all the latest developments in the law, including the Criminal Justice and Public Order Act 1994, where appropriate. It explains in detail the technique required in order to extract the important points from this confusing and vast subject. The result is an approach which will enable the student to understand course work more fully and to tackle the subject with confidence and success.