The Court Guide: The South Eastern and Western Circuits 2011-2012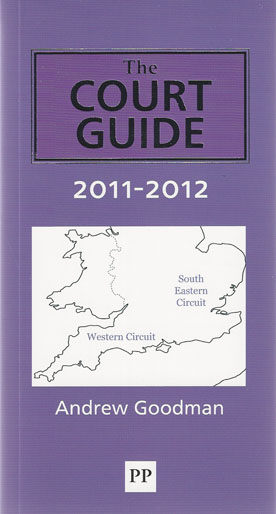 ISBN13: 9781858117126
Published: December 2011
Publisher: PP Publishing
Country of Publication: UK
Format: Pocketbook + ebook
Price: £25.00 + £2.50 VAT

Like its predecessors, this little book is intended to be a reference guide to the location of and facilities at the various courts and tribunals situated in the South Eastern and Western Circuit areas.
It is designed to aid those who regularly attend court, including counsel, solicitors, clerks, pupils, students, and members of the media. It is particularly hoped to assist the first-time visitor to a particular court or tribunal in knowing how to find the venue and what he or she may expect of the facilities on arrival.
Such facilities, and indeed the venues themselves, do change regularly especially in this time of cost-cutting and court consolidation and it is wise to check the information prior to departure. With this in mind, there is a new interactive element to this book – with readers having the opportunity to use an electronic version and to contribute to its value by uploading comments. An ebook version is available for those wishing to install it on their laptops.
This edition contains:-
Civil, Coroner's, Crown, County, Family Proceedings, Magistrates', and Youth courts, and major Tribunal centres, set out alphabetically and separately for each Circuit by geographical location.
An alphabetical index set out by jurisdiction is available for cross-referencing entries that the reader may not find merely by flicking through the book.