Electronic Banking: Protecting Your Rights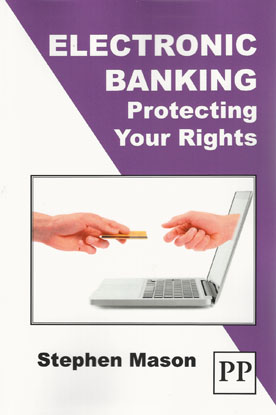 ISBN13: 9781858117164
Published: November 2012
Publisher: PP Publishing
Country of Publication: UK
Format: Paperback
Price: Out of print

Dealing with Error or Fraud in ATM and Online Banking Transactions. In June 2012, NatWest bank launched a mobile telephone app called Get Cash. This let customers withdraw money without using a debit card at their ATMs. To obtain the app, customers had to register for online banking, then mobile banking and download the app to their telephone.
Tim from London had £950 taken from his account in August using a security code downloaded using the app. The money was taken from 11 ATMs in three days, each one below the £100 limit NatWest imposed for each ATM withdrawal without a card. This was not his usual pattern of spending.
Tim had never heard of the Get Cash system. He was registered for online banking, but not mobile banking. NatWest then accused him of giving his personal details to a thief, and only refunded £950 after Radio 4's Money Box contacted NatWest.
The aim of this book is to help you deal with your bank if anything like this should happen to you. The interconnected world of on-line, mobile and cash machine banking is a ripe hunting ground for thieves. Protecting your rights if you are a victim can be difficult, especially if the banks suspect you have been involved.
Stephen Mason is a renowned expert on electronic evidence. Here for the first time, he has provided the information and the tools with which to protect yourself.