The Curtis-Bennett Chronicle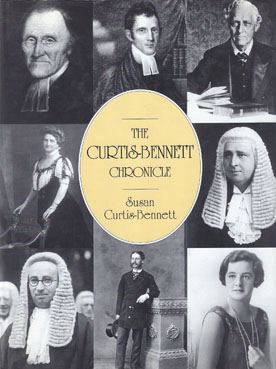 ISBN13: 9781860770821
ISBN: 1860770827
Published: June 1998
Publisher: Phillimore & Co Ltd
Country of Publication: UK
Format: Hardback
Price: £15.00
(Second Hand)

Out of Print
Susan Curtis-Bennett, journalist descendant of three generations of eminent lawyers, who made the surname famous - perhaps especially Sir Henry Curtis¬Bennett, KC who had many newsworthy cases - could get no further than the early 18th century with Bennett or Curtis so turned her attention to the distaff side with rewarding results. She has been able to reveal a rich tapestry of English history from the Middle Ages to the present day.
A glance at the contents page shows the wealth of diverse family connections established, making her book a potential source for many other genealogists; while her text throws light on local history, especially in Essex, Wiltshire and Kent, not to mention Scotland, Australia and the early United States.
In many years of research she has uncovered individuals involved in critical events like the Civil War, institutions like the City of London, and even the American War oflndependence. No mere compiler of a pedigree chart, she is at pains to place her ancestors in context, to learn what manner of people they were and what they achieved and why. Some were significant in their day, like Sir Ambrose Crowley, the great 17th-century ironmaster, or his contemporary Sir James Hallett, the donor of the Dunmow Flitch; while some were ordinary folk, like William Butterfield, a pikeman at Flodden Field.
A professional communicator, the author tackles her ancestry with a sense of humour and a relish for the telling anecdote, so that her book is very easy to read. It is well written as well as carefully researched. At a time when family history is a very popular and growing hobby, this 'Chronicle' could well inspire others to put pen to paper and add their discoveries to the detailed history of the English speaking people.