UAE Company Law and Practice 5th ed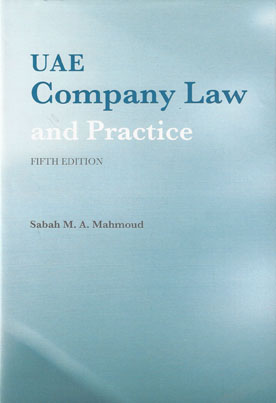 ISBN13: 9781873210000
Published: December 2013
Publisher: Sabah Mahmoud
Country of Publication: UK
Format: Hardback
Price: £60.00

The 1st edition of this book UAE Company Law and Practice was published in 1990. The application of the UAE Company Law of 1984 as amended in 1988, has since become well established. Companies operating in the UAE prior to the implementation of the Law had to conform to its provisions and new companies are incorporated in accordance with its provisions.
The Company Law is a comprehensive and wide-ranging legislation that deals with all aspects of commercial companies and branches of foreign companies in the UAE. Knowledge of its provisions and application is essential to companies, professionals or individuals with business interests in or with the UAE.
This Revised Fifth Edition of the UAE Company Law and Practice is still the only reference book available that deals with the Company Law and its application. It is revised to provide an invaluable updated guide to the Company Law and the practical ramifications of this important UAE Legislation.
Subjects dealt with in this book include:-
The UAE Legal System Islamic Law (Shariah) Classification of Companies
Personal Companies, Capital Companies & Combine Companies Company Conversion, Reorganization and
Termination
Statutory Controls
Foreign Companies
Registration of branches of foreign companies Boycott Certificate
The revised 5th edition also includes full translation of:-
Commercial Company Law No. (8) of 1984 as amended. Ministerial Decisions (Implementing By-Laws)
Draft Professional Companies Law
Important Legislation effecting Commercial Companies
Please note the same isbn has been used for all 5 editions