Crofting Law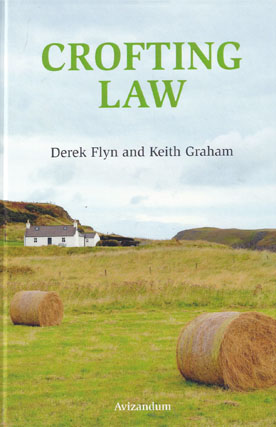 ISBN13: 9781904968313
Published: March 2017
Publisher: Avizandum Publishing Ltd
Country of Publication: UK
Format: Hardback
Price: £125.00

Recent legislative reforms aim to secure the future of crofting by sustaining and enhancing the population of crofting communities, improving local involvement in and accountability for crofting administration, and safeguarding land held in crofting tenure.
With almost 20,000 registered crofts, crofting makes a significant contribution to the economic, social and environmental life of rural Scotland.
The amending legislation forms an important part of the Scottish Government's programme of land reform. Key features include:-
introduction of crofting community right to buy
renaming and reorganisation of the Crofters Commission
establishment of register of crofts and common grazings
regulation addressing neglect of croft land and absenteeism
new provisions for decrofting and resumption
This is an accessible and up-to-date guide to the complex statutory regime which regulates crofting law in Scotland. It is the first text to cover the Crofting Reform Acts of 2007 and 2010 and the Crofting (Amendment) (Scotland) Act 2013.
Derek Flyn, Solicitor, is crofting law consultant to Inksters and Keith Graham is the former Principal Clerk to the Scottish Land Court