No Ordinary Court: 100 Years of the Scottish Land Court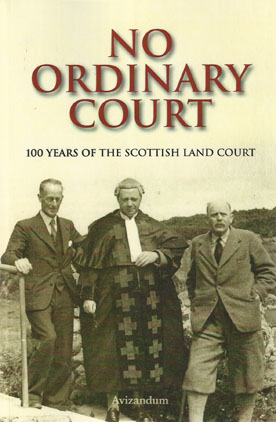 ISBN13: 9781904968511
Published: May 2012
Publisher: Avizandum Publishing Ltd
Country of Publication: Scotland
Format: Paperback
Price: Out of print

The Scottish Land Court owes its existence to riot, rebellion and incipient revolution. Its origins lie in nineteenth-century protest by crofters against their landlords. Is modern role requires it to deal with the complications of EU law as well as the complexities of the law governing agricultural holdings, crofting and revolutionary changes such as community land buy-outs.
This book commemorates the centenary of the Court, describing the background to its creation and narrating its history from 1912 to the present day. It provides a fascinating insight into the workings of a very down-to-earth court as well as the changing social and cultural conditions in Scotland over the last century.
A number of cases and events over the years are remembered with a mixture of affection, amusement and, occasionally, a degree of disbelief. Various contributors tell of colourful characters, quirks of law and lawyers, wild weather, turbulent seas, disrupted travel and encounters with local hazards, including wildlife.
Illustrated throughout by photographs from the Court's archives, No Ordinary Court is an affectionate tribute to a unique Scottish institution and a celebration of its role in rural Scotland.