Pronounced for Doom: Early Scots Law Tales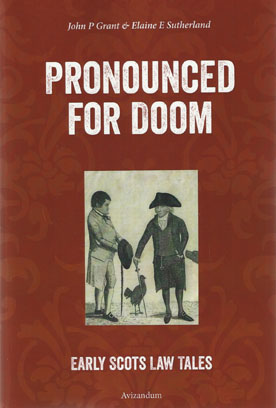 ISBN13: 9781904968658
Published: December 2013
Publisher: Avizandum Publishing Ltd
Country of Publication: Scotland
Format: Paperback
Price: £15.00

to be hanged by the necks, by the hands of the common executioner, upon a gibbet, until they be dead … which is pronounced for doom (The Trial of William Brodie)
Of the fourteen legal cases discussed in this volume, only that of Deacon Brodie resulted in the death sentence, but these tales from the Scottish courts before 1900 all feature fascinating facts, events or personalities, sometimes all three.
Through their criminal trials, the reader will meet the hapless and hedonistic thief Deacon Brodie; the tyrannical Highland sheriff William Ivory; the homicidally insane minor aristocrat Gordon Kinloch; the free-spirited Madeleine Smith; and the brave and principled Thomas Muir.
Then there are the rich and varied protagonists of the civil cases, including those involved in the Great Douglas Cause (a case of disputed maternity) and the War of the Booksellers, along with two lesbian schoolteachers in 19th century Edinburgh; a proto-feminist; a naïve Glasgow tea merchant; the woefully incompetent directors of the City of Glasgow Bank; an inept racing man; and a father philandering with his sister-in law.
Pronounced for Doom does not simply give a factual account of the cases, but also tells the stories of the characters involved, setting them in the historically important context of their time. It will appeal to all those interested in the diversity of human conduct and how the law attempts to deal with it.