Essays on War in International Law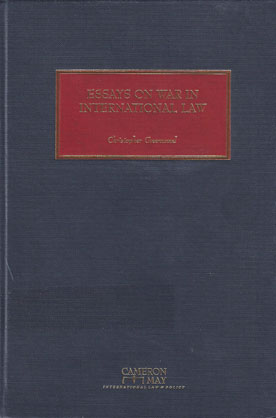 ISBN13: 9781905017324
ISBN: 1905017324
Published: August 2006
Publisher: Cameron May Ltd
Country of Publication: UK
Format: Hardback
Price: £125.00

Usually despatched in 1 to 3 weeks.
The essays contained in this volume deal both with the law concerning resort to force (jus ad bellum) and the law which regulates the conduct of hostilities once the decision to resort to force has been taken (jus in bello).
The collection looks at Iraqi invasion of Kuwait in 1990 and the shift towards the interpretation of decisions of the Security Council rather than the reliance on the law of self-defence in assessing the legality or illegality of a state's resort to force. Also addressed are questions of whether international law permits the pre-emptive use of force and humanitarian intervention.
The collection also contributes to the debates surrounding the law on the conduct of hostilities (the laws of war, properly so called), including intense debate over whether nuclear weapons could ever lawfully be employed, whether there is a role for belligerent reprisals in modern international law, the system for the prosecution of war crimes and the duties of the belligerent occupant.