Contemporary Challenges for the International Criminal Court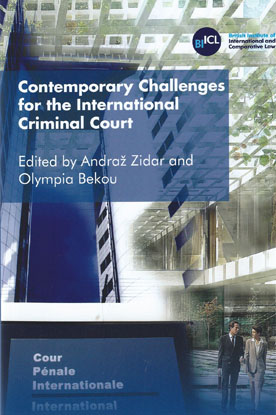 ISBN13: 9781905221516
Published: April 2014
Publisher: British Institute of International and Comparative Law
Country of Publication: UK
Format: Paperback
Price: £85.00

The International Criminal Court celebrated its 10th anniversary in 2012. This first decade was marked not only by the Court issuing its first judgment, in the Lubanga case, but also by numerous challenges which it has had to resolve.
This book brings together a number of perceptive insights into the functioning of the Court at the intersection between international criminal law theory and the practice developed by the Court.
Subjects covered in the book include the definition of crimes under the Rome Statute, the issue of complementarity between the ICC and domestic courts, the trigger mechanisms of the ICC, the role and rights of victims, and prospects for the future work of the ICC.
Authors are leading specialists in the field of international criminal justice and include scholars, legal practitioners, NGO experts and ICC officials. The book will be an important asset for all readers interested in contemporary developments under the legal regime of the Rome Statute.