Taxbriefs Pensions and Retirement Planning 2012/13: The Adviser's Guide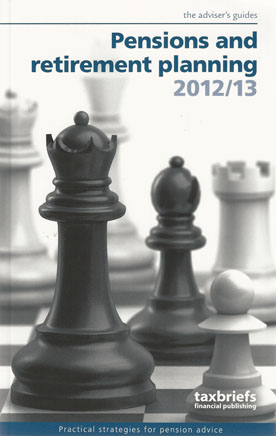 ISBN13: 9781905482566
Published: September 2012
Publisher: Taxbriefs Ltd
Country of Publication: UK
Format: Paperback
Price: Out of print

The last few years have seen radical changes in the pension landscape, with more to come. Auto-enrolment begins in 2012 and with state pension age set now set to rise to 67 by 2028, clients, institutions and advisers are consistently focused on pension provision.
This 3rd edition of Pensions and Retirement Planning has been fully updated for 2012/13 to provide the single definitive resource on pensions and retirement planning for the adviser and professional community. It is unusually broad in approach and scope.
The new edition incorporates many changes of law and practice in the last 12 months and will save advisers time in planning initial presentations and reacting to subsequent queries. Written in a clearly structured and accessible format, it will allow advisers to work with their clients confident that they have covered all the key planning issues.
The 3rd edition includes discussion on the move to a universal, flat rate pension, changes introduced by the 2011 Finance Act, the latest rules on QROPS and QNUPS, the commutation of personal pensions; new definitions on 'money purchase' and more on alternatives to pensions such as ISAs and EIS.