Succession Law in Ireland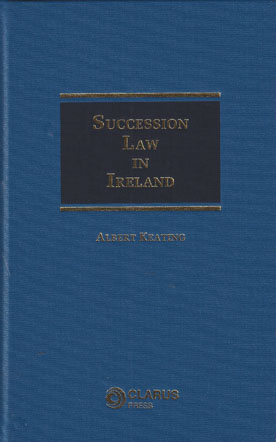 ISBN13: 9781905536726
Published: July 2015
Publisher: Clarus Press
Country of Publication: Ireland
Format: Hardback
Price: £125.00

Succession Law in Ireland is a new book designed for legal practitioners which gives a practical insight into succession law. Succession law is branch of the law which provides the rules for the creation of succession rights to property by wills in the form of devises, legacies and bequests and the rules relating to the distribution of estates in cases of intestacy.
A summary of the twenty-six chapters contained in Succession Law in Ireland will demonstrate the book's comprehensiveness as well as its interconnection from chapter to chapter. This book has also a body of useful precedents on wills, probate and Succession Act precedents.
Chapters 1- 6 provide the rules for execution of wills, testamentary capacity, the revocation and revival, the creation of testamentary gifts and trusts, and are cross-referenced to Chapter 24 which provides wills precedents for testimonium and attestation clauses, revocation clauses, the appointment of executors and testamentary guardians, devises, legacies, bequests and testamentary trusts.
Chapter 7 deals with intestate succession and the devolution and distribution of estates on intestacy.
Chapters 8 – 9 deal with the legal rights of spouses and civil partners and applications by qualified cohabitants and applications by children under section 117 of the Succession Act 1965. Chapters 8 – 9 interconnected with Chapter 26 which provides precedents for renunciations of the legal rights by spouses and civil partners, also for exercising the right of election and appropriation.
Chapter 10 deals with the cessation of succession and legal rights by the criminal behaviour of spouses, civil partners and children of the deceased, the invalidation of wills and gifts and disclaimers.
Chapters 5 – 7 deal with the creation of certain property rights in the form of donationes mortis causa, joint bank accounts and advancements, and also equitable property rights which come into being by the equitable doctrines of proprietary estoppel and constructive trusts, and these property rights have to potential impinge on succession rights created by wills or arising out of intestacies.
Chapters 13 – 18 deal with applications for grants of probate, letters of administration with will annexed, letters of administration intestate, and applications for grants by guardians, committees and attorneys and also applications for de bonis non grants and caveats and citations. Chapters 13 – 18 are interconnected with Chapter 25 which provides precedents for applications for grants.
Chapter 19 deals with the administration and distribution of estates by personal representatives, the duties and powers of personal representatives and their liabilities.
Chapters 20 – 23 deal with probate motions, s.27(4) applications, probate and administrative actions and the important issue of costs, the construction of wills in construction suits, and the limitation of actions and the striking out of proceedings.
Chapters 24 – 26, the final chapters in the book, provide wills precedents, probate precedents and Succession Act precedents and these chapters interconnect with various chapters in the book.