Oil and Gas Decommissioning: Law, Policy and Comparative Practice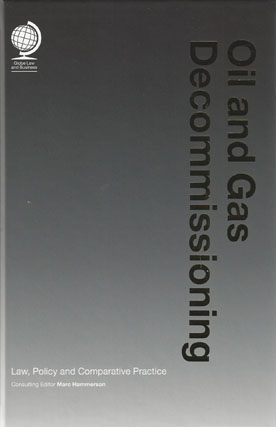 ISBN13: 9781905783786
Published: April 2013
Publisher: Globe Law and Business
Country of Publication: UK
Format: Hardback
Price: Out of print

As certain oil and gas provinces near the end of their production lives, companies, governments and other stakeholders are turning their attention to decommissioning. The price of disposing of oil and gas installations is enormous. Yet the costs (both financial and otherwise) of getting this wrong can be even greater.
Numerous stakeholders are affected. There is a general public interest in upholding environmental and safety standards. Governments wish to comply with their international convention commitments – while ensuring that costs are borne by industry. Taxpayers, who may indirectly pay for up to two-thirds of decommissioning costs, want a proportionate response. Oil companies need a clear allocation of costs among joint venturers – and security for the same from those lacking creditworthiness. Corporate and asset acquisition and disposal activity require certainty in these areas. Outside the world of energy, other industries (particularly shipping and fishing) have strong interests in ensuring that decommissioning is performed to a certain standard.
These topics touch on a range of professional disciplines. Legal, tax, accounting and environmental issues overlap with each other. Common industry agreements – such as the licence, the joint operating agreement and the security agreement (as well as any M&A and financing transactions) – need to fit together.
Part I of this new practical book therefore analyses each professional area relating to decommissioning. As well as these professional disciplines and agreements, Part I contains chapters on UN law, OSPAR regulations, government policy, offshore contracting, health and safety and technical issues. These topics are further examined using a case study from a completed North Sea decommissioning project. Part II provides an international comparative analysis. It features coverage of how international laws on decommissioning are implemented in the major oil-producing jurisdictions around the world.
As well as decommissioning professionals, this book will be of interest to oil and gas executives, lawyers, accountants, tax advisers, insurers, investment bankers, academics and other professionals connected to the oil and gas industry.