CPAG: Paying for Care Handbook 6th ed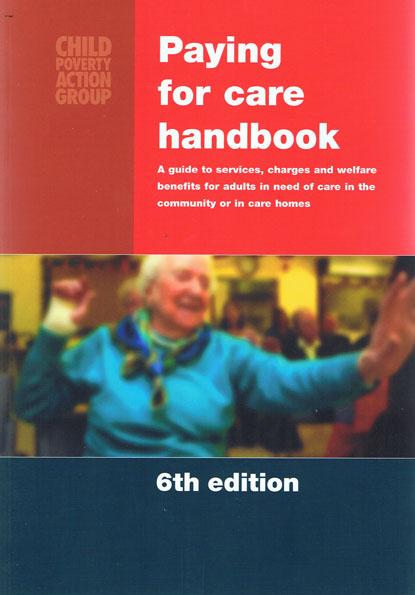 ISBN13: 9781906076207
Published: April 2009
Publisher: Child Poverty Action Group
Country of Publication: UK
Format: Paperback
Price: Out of print

A Guide to services, charges and welfare benefits for adults in need of care in the community or in care homes.
There is comprehensive coverage of: services, welfare benefits and other financial help for adults, and their carers, needing care at home or in supported housing; how charges are means-tested, administered and enforced; the duties of social services and health authorities; challenging decisions, enforcing rights and common problems.
Fully indexed and cross-referenced to law, guidance, court and commissioners' decisions, there is in addition the full text of key legislation setting out the powers and duties of social services authorities. There are practical examples of calculations, and tactical hints and arguments to help with maximising income and minimising liability – helping both care users and the responsible authorities to achieve effective financial planning.
The Paying for Care Handbook provides clear, practical guidance for adults in need of care and support, their carers and relatives, and professionals giving advice or administering the different schemes of services, charges and benefits. This includes welfare rights advisers, social workers, solicitors, information providers, and community care and financial assessors.