CPAG: Personal Finance Handbook 3rd ed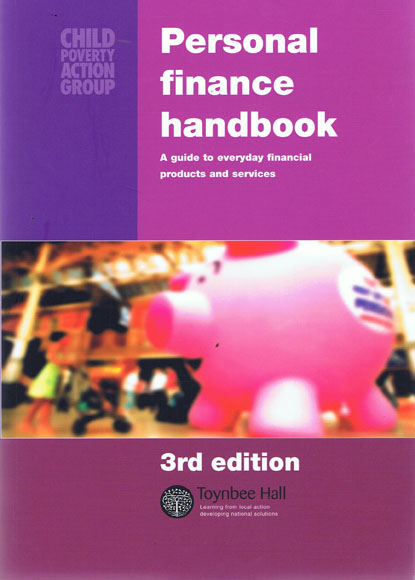 ISBN13: 9781906076320
Published: December 2009
Publisher: Child Poverty Action Group
Country of Publication: UK
Format: Paperback
Price: Out of print

This is a straightforward introduction to the types of financial products and services that are widely available – bank accounts, savings, loans, pensions, insurance and so on. The information is factual, non-biased and non-brand specific.
The Handbook clearly explains:-
why financial planning is important, and how to go about it
when you might need a particular product or service, and the types of provider
what costs might be involved, the small print, and how to protect yourself from fraud or mis-selling
your rights and responsibilities as a consumer
where to get further advice and help, and how to complain if necessary.
This edition takes account of how the 'credit crunch' and recession have affected people's finances. It has has new and expanded information on banking, Saving Gateway, ISAs, pay-day loans, pawnbroking, debt relief orders, pension personal accounts, individual budgets, payment protection insurance and sale-and-rent-back schemes, It is fully updated with 2009-10 tax and benefit rates
The Personal Finance Handbook is for you if you are:-
advising people on low to moderate incomes who may be having difficulty accessing everyday financial products that could help them – for example, a bank account to receive direct payments
participating in financial literacy projects, or providing education or training in financial literacy.
This guide is geared to the needs of general advisers and trainers. It is not for registered financial advisers; neither is it primarily aimed at the consumer (although many individuals will find it useful).