Compliance for Law Firms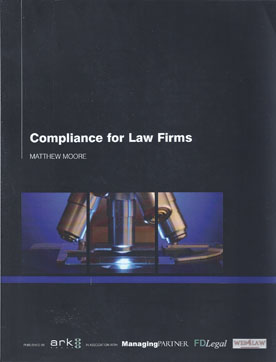 ISBN13: 9781906355364
Published: August 2008
Publisher: Ark Group
Country of Publication: UK
Format: Paperback
Price: £100.00
(Second Hand)

As implementation of the Legal Services Act 2007 gains momentum, regulatory compliance is now established as a critical issue with severe and far reaching consequences for non-compliant firms.
Now, more than ever, it is vital that a clearly defined, implemented and understood framework is in place within your firm.
Such a provision will not only relieve the regulatory compliance burden on your firm, but can serve to improve and preserve reputation while delivering increased performance and profitability firm wide.
This essential new report uses specialist expertise and best-practice examples to guide you through developing and implementing a successful strategy for meeting regulatory requirements.
Compliance for Law Firms examines your firm's obligations in areas such as supervision and the associated management 'arrangements' required by rule 5 of the Code of Conduct as well as key provisions including those dealing with:
Client relations;
Client acquisition;
Conflicts of interest;
Diversity;
IT security; and
Data.
The report details how rules primarily designed around high street practices need to be implemented by larger firms. It includes a comparison chart showing the equivalent provisions where they exist between the former Guide to the Professional Conduct of Solicitors and the Code of Conduct 2007.
The text also assesses the usefulness of quality and risk programmes including Lexcel and ISO 9001 and, most importantly, analyses the benefits and improvements achieved by firms that have implemented these standards.
Compliance for Law Firms is compiled by Matthew Moore - for many years the principal trainer for the Law Society in the Lexcel scheme and editor of four editions of the compliance templates manual and is written specifically to give you practical advice on delivering a compliance strategy that will help your firm work efficiently and with confidence.