Pricing and Profitability for Law Firms 2nd ed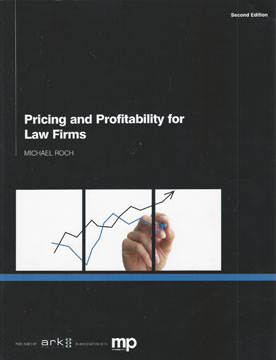 ISBN13: 9781906355999
Published: July 2010
Publisher: Ark Group
Country of Publication: UK
Format: Paperback
Price: Out of print

Pricing is just one element in a law firm's short-term profitability, yet the impact of pricing on your firm's long-term success – including its market position – is crucial.
Actively reviewing the pricing models and options available is now more essential than ever to safeguard your firm's competitive advantage in today's challenging market.
With in-depth analysis of the tools, methods and strategies available, Managing Partner's Pricing and Profitability for Law Firms, Second Edition will enable you to develop a clearly defined pricing strategy that will increase profits while successfully delivering and communicating improved value to your clients. Subjects covered include:
A framework for effective pricing management;
Pricing as a key element of competitive strategy;
Pricing strategy in the context of the firm's value proposition;
Supporting good pricing decisions: pricing policies, governance and support structures;
Changing partner behaviour to achieve better pricing decisions;
The need for information, analysis and control;
Successfully implementing new pricing methods and tools;
Professional development and training requirements in the context of pricing;
Leverage/gearing and project management;
Demand, capacity, utilisation and pricing; and
Establishing rational fee rate schedules and raising rates.
Extensively updated, the eagerly anticipated second edition reflects the significant developments in pricing management over the last two years, taking into account the global economic downturn and the Legal Services Act 2007.
The report also addresses legal process outsourcing and the effect that it will have on cost management and pricing service delivery for your firm. Featuring cutting-edge analysis of the KermaPartners Annual Pricing Practices Survey 2010, the report reveals telling findings about pricing structures in law firms today and highlights key areas where firms can make significant improvements now to secure competitive advantage.