Liberty and Other Misunderstandings: Some More Notes on Health Care Law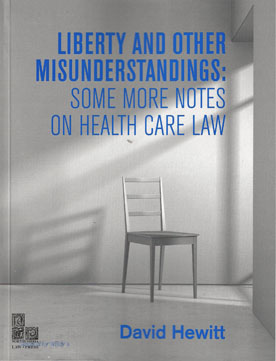 ISBN13: 9781906596118
Published: June 2011
Publisher: Northumbria Law Press
Country of Publication: UK
Format: Paperback
Price: £24.99

The heart of this book is the notion of liberty, and the way it has been understood - and, yes misunderstood - in hospitals and care homes, and in prisons, peoples own homes and even in one notorioius case, Oxford Circus. But this collection of the recenet writings of David Hewitt offres far more.
The 50-odd pieces included here clearly and calmly dissect subjects such as:-
in-patient detention and the Bournewood case
CTO's and ASBO's
mental health tribunals and nearest relatives
and police powers and self harm
And there's evem discussion of the continuing relavance of the medieval
Ship of Fools
and why coroners are like professional wrestlers.
This book will be of interest to anyone who works with, or is subject to, the Mental Health Act, the Mental Capacity Act or the Deprevation of Liberty Safeguards, and to anyone with an interest in practice and policy surrounding children and young people, vulnerable adults, coroners or transsexuals.