Professional Discipline and Healthcare Regulators: A Legal Handbook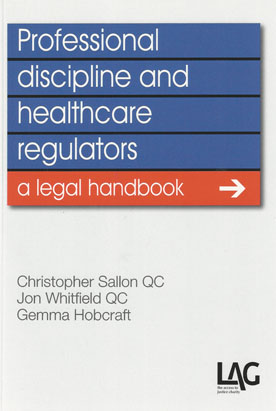 ISBN13: 9781908407061
Published: August 2012
Publisher: Legal Action Group
Country of Publication: UK
Format: Paperback
Price: £45.00
(Second Hand)

Professional Discipline and Health Care Regulators is a practical and accessible guide to the law, practice and procedure of professional disciplinary hearings before health care regulators.
The regulation of professional discipline for health care professionals, commonly referred to as fitness to practise proceedings, is in a constant state of flux. This new book provides clear, practical guidance and advice for every stage of proceedings: how to prepare for a case, presentation at the hearing and coverage of broader issues such as mediation, abuse of process, appeals, judicial review and the Independent Safeguarding Authority.
Professional Discipline and Health Care Regulators provides:
Comprehensive coverage of the legal principles as they apply to major health care regulators
A step by step guide to practice and procedure with tips and tactics for both legal advisers and registrants
Up to date coverage of case law and the applicability of the European Convention on Human Rights
Extensive cross-referencing enabling the busy practitioner to quickly navigate the relevant general legal principles and the specific rules of the individual health care regulators.
The book is essential reading for lawyers, advisers, trade union officials and health care professionals. It is a practical handbook for the busy legal practitioner and an affordable and accessible guide for registrants and their union representatives.