Quiet Enjoyment: Arden and Partington's Guide to Remedies for Harassment and Illegal Eviction 7th ed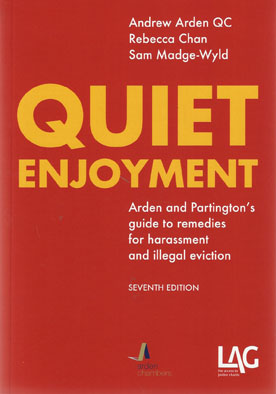 ISBN13: 9781908407146
Published: October 2012
Publisher: Legal Action Group
Country of Publication: UK
Format: Paperback
Price: Out of print

Quiet Enjoyment is concerned with the rights of occupiers of residential property to live undisturbed in their homes and the legal remedies available when their peace is threatened.
This book aims to provide lawyers and other advisers with a practical guide to the law, so that the relevant legal issues may be more easily understood. In addition, particularly with assistance from non-lawyers in mind, it offers an outline of relevant court procedures and seeks to demonstrate how the legal system can be made to operate for the benefit of the occupier.
The book is divided into two parts:-
Civil proceedings covering causes of action and remedies: damages, awards of compensation for loss, distress and discomfort and injunctions; county court procedure - with practical examples for preparation of documents, in particular for emergency orders.
Criminal proceedings - covering the Protection from Eviction Act (PEA) 1977 and Protection from Harassment Act (PHA) 1997, as well as offences which a landlord can commit under the Criminal Law Act (CLA) 1977.
There is a new appendix covering other remedies which may be available to victims of harassment and unlawful eviction, including powers aimed at broader anti-social behaviour and other kinds of conduct, for example, noise. As well as a brief guide to the classification of occupation and the relevant statutory provisions reproduced.
Quiet Enjoyment is the definitive guide to advising clients properly of their rights. It is an essential handbook for advisers, lawyers and tenancy relations officers. Local authority housing and legal departments and registered social landlords will also find it invaluable.