Capital Allowances for Fixtures: 2012-13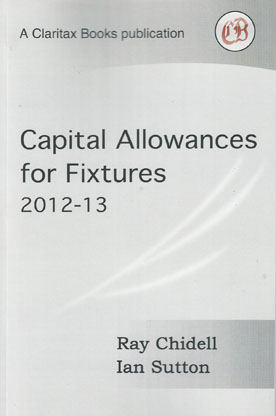 ISBN13: 9781908545152
Published: April 2012
Publisher: Claritax Books
Country of Publication: UK
Format: Paperback
Price: Out of print

This short book contains a full technical analysis of the proposed new rules re capital allowances for fixtures, as originally announced in the HMRC consultation document issued on 31 May 2011.
The text has been fully updated to reflect the Finance Bill legislation published in March 2012 and the HMRC guidance notes issued both then and previously.
The book explains the proposed new rules in detail, offering a full account of the technicalities, including detailed coverage of the transitional provisions. It is illustrated with practical examples showing the likely tax effects in particular circumstances. There is a chapter containing extra worked examples and another that addresses practical issues arising for buyers and sellers.
Although the book is not long, the content is technical in nature, aimed at accountants, tax advisers, solicitors or surveyors. It is assumed that readers will already be broadly familiar with the existing capital allowances rules applying when commercial property is bought or sold, but the book does have an introductory chapter providing an overview of the current rules.