The Killing of Constable Keith Blakelock: The Broadwater Farm Riot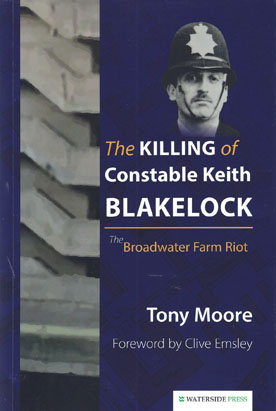 ISBN13: 9781909976207
Published: May 2015
Publisher: Waterside Press
Country of Publication: UK
Format: Paperback
Price: £20.00

After becoming detached from Serial 502 Keith Blakelock was kicked and hacked to death by a mob using clubs, iron bars and machete-like weapons. His killers have never been brought to justice.
'A rounded, mature assessment of the murder of Keith Blakelock, the events that led to the deployment of his serial during the disorder and the messy, and in many respects still unresolved aftermath': Professor Clive Emsley (from the Foreword).
Published to mark the 30th anniversary of one of the most disturbing events in British policing, this masterly account by ex-Metropolitan Police commander Tony Moore is based on unrivalled research and sources. It describes rioting on the Broadwater Farm Estate, Tottenham in 1985 against a backdrop of unrest in major UK cities and a nadir in relations between police and black communities. Based on new materials, private communications and matchless sources.
A closely observed account by someone working at senior level in the Met at the time. Deals with the biggest breakdown in community relations and law and order in modern English social and policing history. Looks at both sides of the story of unrest at this symbolic location, its history, background, influences, causes, legacy and who was most to blame.