Freeing the Innocent: From Bangkok Hilton to Guantanamo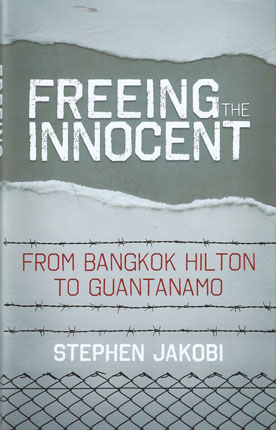 ISBN13: 9781909984950
Published: March 2015
Publisher: The Book Guild Ltd
Country of Publication: UK
Format: Hardback
Price: £17.99

Stephen Jakobi, the internationally-recognised human rights lawyer, started devoting his working life to the cause of justice for foreigners at an age when most of his contemporaries were contemplating retirement. From an early age, Stephen believed it was his duty to give something back to society.
From his schooldays he'd held an absolute mistrust of authority and hatred of victimisation; politics gave him a familiarity with media and public relations and over the years he gained the necessary experience of the practice of criminal law to become an effective human rights lawyer.
Amongst the many headline names that Stephen has tried to help achieve justice are the British nanny Louise Woodward, the Greek plane spotters, the football fan Garry Mann and the Manchester United Six. But it all began with Karyn Smith, a British national in Thailand who was accused of smuggling heroin… Stephen founded Fair Trials International (then Fair Trials Abroad) in 1992, in response to Karyn Smith's case, believing that the right to a fair trial is one of the cornerstones of a just society.