Criminal Costs: Legal Aid Costs in the Criminal Courts 2nd ed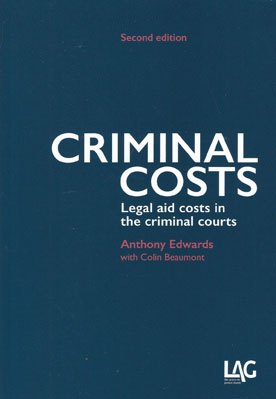 ISBN13: 9781912273867
Published: May 2019
Publisher: Legal Action Group
Country of Publication: UK
Format: Paperback
Price: £50.00

The criminal legal aid scheme has become ever more complex and unclear. Criminal lawyers have a mass of statutes, regulations, guidance and cost decisions to navigate alongside the standard contract amendments.
Criminal Costs: Legal Aid Costs in the Criminal Courts is a comprehensive guide to managing fees for police station, magistrates and Crown Court work. Covering fixed and graduated fee schemes, it explains the principles that apply and identifies the relevant authority for making a claim.
Contents include:-
principles of costs and enhancement in criminal legal aid cases;
criminal investigations and freestanding advice;
magistrates court proceedings;
prison law;
Crown Court work;
costs in relation to appeals and reviews;
very high cost criminal cases;
disbursements;
administrative issues;
Relevant civil proceedings.
The main commentary is supplemented with a wealth of appendices which include fee tables, experts' fees and rates, VHCC rates, classes of offences and court, police station and prison codes so that the busy practitioner has all the necessary information at their fingertips in a handy, accessible volume.
As practitioners are constantly frustrated and delayed by online billing systems, Criminal Costswill save valuable time and help avoid costly mistakes. It is quick and easy to navigate and has answers to all the tricky questions in one place.
The authors are acknowledged experts in this field with many years experience at the police station and in the courts. Criminal Costs is essential reading for any individual practising in the criminal courts and for anyone involved in the billing of criminal work.