Practitioner's Handbook on International Arbitration and Mediation 3rd ed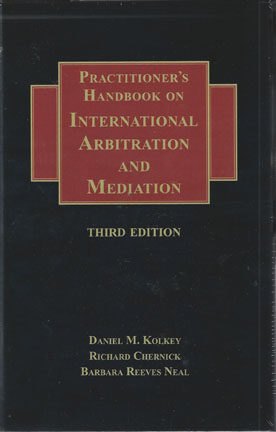 ISBN13: 9781933833750
Published: April 2012
Publisher: Juris Publishing
Country of Publication: USA
Format: Hardback
Price: £160.00

The Practitioner's Handbook on International Arbitration and Mediation, 3rd Edition is a unique work with each chapter written by a well-known practitioner and expert in the field. It covers in-depth all the most important facets of international arbitration and mediation.
The Handbook is intended to make the reader into a better practitioner, whether as an arbitrator/mediator or as counsel appearing in an international arbitration or mediation. The chapters are designed to help you reach that goal as each chapter has been written with the understanding that you are looking for practical advice and guidance.
Unlike many works with multiple authors, this work is not simply a collection of essays on a general subject. This book is a unified work with cross references among the chapters and a consistent format throughout.
The book is divided into three parts. Part One contains a general discussion of international arbitration. Part Two deals with international mediation. Each of these chapters is filled with Practitioner's Expert Commentary and Hints on the most important aspects of international arbitration and mediation.
Part Three is country specific, and these chapters give you detailed, practical advice on how to conduct an international arbitration in that particular jurisdiction. As a result, chapters in Part Three are a bit more technical as the authors realized that the reader would need citations to and commentary on the local arbitration statutes and rules.
The CD-Rom that accompanies this Work contains relevant original source material that is germane to the text.
.