Practical Handbook on the Operation of the Hague Service Convention 3rd ed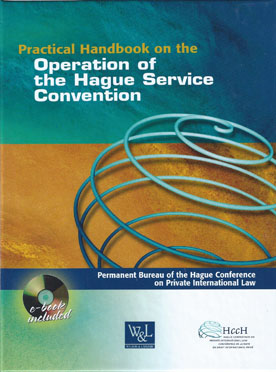 ISBN13: 9782891277518
ISBN: 2891277511
Published: August 2006
Publisher: Wilson & Lafleur Ltee
Country of Publication: Canada
Format: Ringbound in Binder & CD-ROM
Price: Out of print

The 1965 Hague Service Convention is an essential tool of international judicial cooperation and cross-border litigation in civil and commercial matters.
This fully revised and expanded edition of the Practical Handbook on the Operation of the Hague Service Convention offers detailed explanations on the general operation of the Convention as well as authoritative commentaries on the major issues raised by practice over the past forty years. The Handbook analyses or otherwise refers to approximately 250 court decisions rendered in a great number of jurisdictions in application of the Convention.
The Handbook also contains a FAQ section with succinct and practical replies that offer a quick overview of the Convention's main provisions and basic features. This section is usefully complemented by four Explanatory Charts on various aspects of the Convention's operation.
This paper edition of the Handbook come with a fully searchable and easy-to-use e-book (in PDF format), which contains the full text of the Handbook, including all its Appendixes and Indexes. The information and explanations provided in the Handbook may be usefully supplemented by consulting the Hague conference's website at www.hcch.net
This new edition of the Handbook was prepared by Mr. Christophe Bernasconi (First secretary, having primary responsibility for the work conducted by the Permanent Bureau in relation to the Service Convention), with the assistance of Mrs Laurence Thébault ( Legal officer, and later Consultant, to the Permanent Bureau).