Common European Legal Thinking: Essays in Honour of Albrecht Weber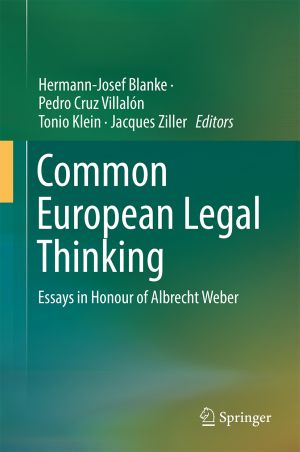 ISBN13: 9783319192994
Published: October 2015
Publisher: Springer-Verlag
Country of Publication: Switzerland
Format: Hardback
Price: £129.99

Despatched in 12 to 14 days.
Common European Legal Thinking emanates from the existence of a shared European legal culture as especially reflected in the existence of a common European constitutional law. It denotes a body of individual constitutional principles – written and unwritten – that represent the common heritage of the constitutions of the Member States.
Taking into account the two major European organisations, the Council of Europe and especially the European Union, the essays of this Festschrift discuss a range of constitutional principles, including the rule of law, democracy, and the exercise of political power in a multilevel system which recognises fundamental rights as directly applicable and supreme law. Other essays examine the value of pluralism, the commitment of private organisations to uphold public values, principles or rules, and the objectives and methods of a transnational science of administrative law.
These articles highlight the fact that the Ius Publicum Europaeum Commune is "politically" in the making, which can often be seen in the shape of general legal principles. The publication recognises the role of Albrecht Weber as a forerunner of Common European Legal Thinking.