From Clones to Claims: The European Patent Office's Case Law on the Patentability of Biotechnology Inventions in Comparison to the United States and Japanese Practice 5th ed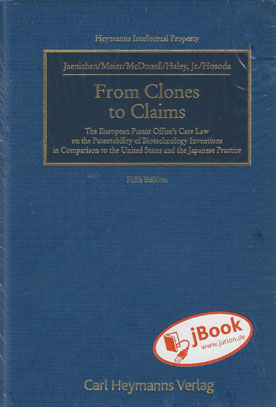 ISBN13: 9783452274328
Published: November 2012
Publisher: Carl Heymanns Verlag KG
Country of Publication: Germany
Format: Hardcover
Price: £205.00

The European Patent Convention now has 31 contracting states and 5 extension states are available. In 2004, about 115,000 patent applications were filed at the European Patent Office. A large number of these applications are biotech applications. As a result, the jurisprudence involving this technology has further developed.
The European Patent Office still provides satisfactory absolute compound protection with claims of acceptable breadth in terms of enablement (as opposed to its contracting states Germany and France). The Technical Board has issued the final decision in the onco-mouse case, deliberating extensively on the ethical aspects of patenting animals.
The Enlarged Board also issued two very important decisions. They deal with the admissibility of disclaimers. Finally, the European Patent Office's jurisprudence has provided interesting decisions on inventive step that make it possible to patent human orthologues even though structural non-obviousness as a defense of inventive step is not available in the European Patent Office.
With harmonization being paramount, the United States Patent and Trademark Office and the United States federal courts continue to examine and to rule on claims directed to biotechnological inventions. Among the important United States decisions affecting biotechnology since the last edition are Merck v. Integra (defining the scope of the safe harbor); In re Fisher (applying the requirement of utility to ESTs); SmithKline Beecham v. Apotox (confirming that inherent anticipation does not require any scienter or appreciation requirement); Noelle v. Lederman (setting forth the enablement and written description requirement for antibodies); Rasmusson v. SmithKline Beecham (requiring more than just a right guess to satisfy the credible utility standard); and Phillips v. AWH (examining and clarifying rules for claim construction).
This book again attempts to provide an overview of the jurisdiction of the EPO and the USPTO and United States courts. This time, there also is a Japanese co-author who has contributed an overview over Japanese biotech patent practice. The Japanese contribution indicates that the Japanese practice is more similar to the EPO's practice than to the US practice, although the written description requirement is now also rather restrictively applied in Japan.
In view of its detailed content and insight into recent developments at the EPO and in the US and Japan, this book is not only useful for beginners in the field but is especially useful for experienced patent practitioners in industry and private practice who want to be prepared when writing their patent applications for international filing, prosecution, litigation, interference and opposition proceedings (which also exist in Japan and which may also be forthcoming in the US).