Contemporary Issues in International Arbitration and Mediation: The Fordham Papers Volume 1 2007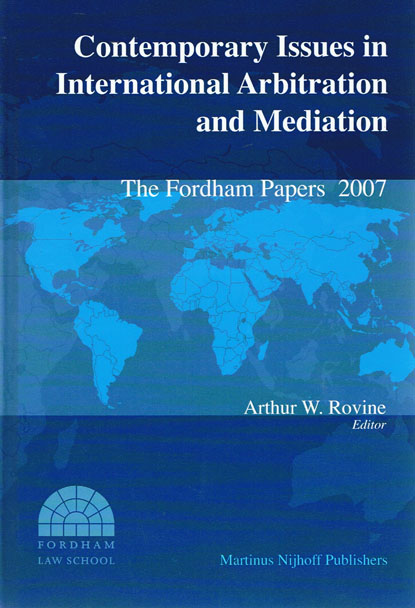 ISBN13: 9789004167384
Published: June 2008
Publisher: Brill Nijhoff
Country of Publication: Netherlands
Format: Hardback
Price: £183.00

Despatched in 5 to 7 days.
These are the 2007 Fordham Papers, the first annual volume of papers on international arbitration and mediation written by leading figures in these fields who spoke at the 2007 annual conference on international arbitration and mediation held at the Fordham Law School in New York City. The five chapters of 23 papers address current issues of international arbitration, including investor-state arbitration, the conduct of international arbitration and jurisdictional issues, remedies and defenses, recent developments in arbitrator disclosure law and practice, and international mediation, including ethics, training, process, and growth of mediation. The papers focus on both practical considerations and scholarly analyses.
Contributors include: Antonio Parra, Lucy Reed, Daina Bray, Brigitte Stern, Barton Legum, Hon.Charles Brower, Michael Ottolenghi, Yves Derains, Judith Gill, John Barcelo, Yuval Shany, Jonas Benedictsson, Julian Lew, Sigvard Jarvin, Richard Mosk, Robert Davidson, James Carter, Lorraine Brennan, Michael Hwang, Katie Chung, Fong Lee Cheng, Kathleen Scanlon, Hon. Fern Smith, Jon Lang, Eileen Carroll, Norris Yang, and Mercedes Tarrazon.