The Italian Yearbook of International Law: Volume 20, 2010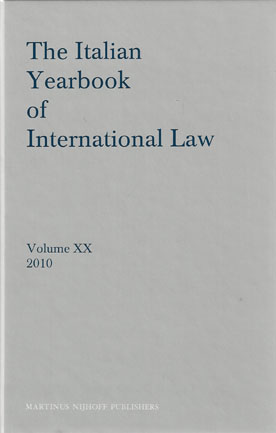 ISBN13: 9789004222038
Published: December 2011
Publisher: Brill Nijhoff
Country of Publication: The Netherlands
Format: Hardback
Price: £208.00

Despatched in 11 to 13 days.
The mission of The Italian Yearbook of International Law is to make accessible to the English speaking public the Italian contribution to the practice and scholarship of international law.
Volume XX (2010) features a cluster of contributions arising from a Symposium on "The Future of the ECHR System" hosted in April 2011 by the University of Napoli "L'Orientale" on the island of Procida. The symposium addressed the current challenges facing the European Convention on Human Rights and the European Court of Human Rights.
Following a general presentation of the symposium, the contributions to this section of the volume are grouped around two broad themes: "The ECHR System and International Law" and "General Aspects of the Functioning of the ECHR System". The contributions cover: i) the notion of jurisdiction in Article 1 ECHR; ii) the accession of the EU to the ECHR; iii) immunities under international law and the ECHR; iv) exhaustion of domestic remedies; v) criteria of inadmissibility for the individual application to the ECtHR; and vi) the application of the ECHR in domestic law.
All pieces have been commented by specialists of the subject, practitioners, and present and former judges of the Strasbourg Court, including President Costa, judge Tulkens, judge Raimondi and Prof. Conforti. The section is closed by some final reflections on the future of the Strasbourg Court by President Costa.
The notes and comments section contains a variety of contributions covering such topical issues as persecution in international criminal law; the role of human rights in international financial institutions; and the Hong Kong Convention for the Safe and Environmentally Sound Recycling of Ships. Surveys on the activities of the ICJ, ITLOS, ICSID, and international criminal courts and tribunals occupy the remaining part of this section.
The second part of the volume covers the Italian practice of international law in the areas of i) judicial decisions; ii) diplomatic and parliamentary practice; iii) treaty practice; and iv) national legislation. The third part contains a systematic bibliographical index of Italian literature in the field of international law and reviews of recent books. The volume ends with an analytical index for ready consultation which includes the main judicial cases and legal instruments cited throughout the Yearbook