The Function of Proportionality Analysis in European Law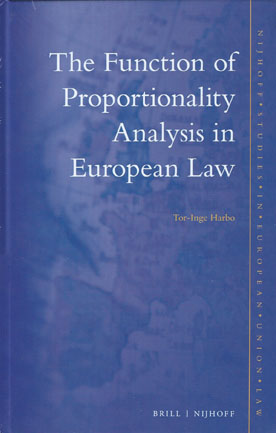 ISBN13: 9789004277885
Published: April 2015
Publisher: Brill Nijhoff
Country of Publication: The Netherlands
Format: Hardback
Price: £134.00

The proportionality principle has become ever more important in European law and elsewhere. The career of the proportionality principle has attracted considerable attention, but, as the author of this book underlines, the debate has so far been quite fragmented.
In this new book the author attempts to offer a broad and systematic discussion of the proportionality principle. Taking as part of departure proportionality analysis as applied by the European Court of Justice and the European Court of Human Rights, the author, in part two of the book, contrasts the proportionality principle with alternative assessment schemes applied by national courts.
In the third part of the book the author reaches beyond doctrinal reconstructions as he seeks to decipher the functions of proportionality jurisprudence. Thereby the author departs from asserting an infringement of a legally protected position by some regulatory act and proceeds to a discussion of the legitimacy of this intervention.
According to the author the safe grounds of proportionality means-ends rationality do not suffice where the legitimacy of an infringement has to be assessed, where conflicting values have to be "balanced" or where courts engage in a proportionality analysis "stricto sensu". In the concluding remarks, the author sets forward a proposition as to how proportionality analysis may be structured in order to better secure the legitimacy of the analysis.