Prosecuting International Crimes: A Multidisciplinary Approach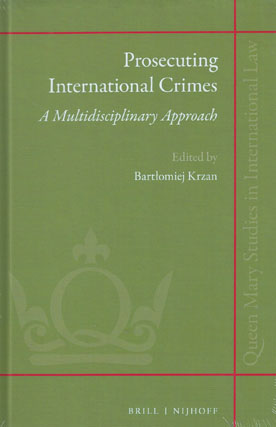 ISBN13: 9789004317406
Published: July 2016
Publisher: Brill Nijhoff
Country of Publication: The Netherlands
Format: Hardback
Price: £125.00

The volume edited by Bartłomiej Krzan offers different perspectives on the prosecution of international crimes. The analyses contained therein reflect different backgrounds, mainly legal, combining several disciplines, and making it a multidisciplinary study.
The main (but definitely not the exclusive) point of reference is that of international law. In addition, other perspectives, those of legal history or sociology of law and obviously the one of criminal law (both substantive and procedural) provide useful alternatives or in most occasions complementary approaches to the examination of the prosecution of international crimes.
The book combines different views, backgrounds and underlying assumptions. But gathered together they, it is to be hoped, shed some additional, useful light that might be helpful for identifying new dimensions of the reaction (judicial or other) towards international crimes.
Contributors: Władysław Czapliński, Patrycja Grzebyk, Witold Jakimko, Wojciech Jasiński, David Kohout, Karolina Kremens, Bartłomiej Krzan, Krzysztof Masło, Neringa Mickevičiūtė, Robert Uerpmann-Wittzack, Regina Valutyté, Karolina Wierczyńska, Joachim Wolf, Loammi Wolf, and Justinas Žilinskas.