Hedge Fund Regulation in the European Union: Current Trends and Future Prospects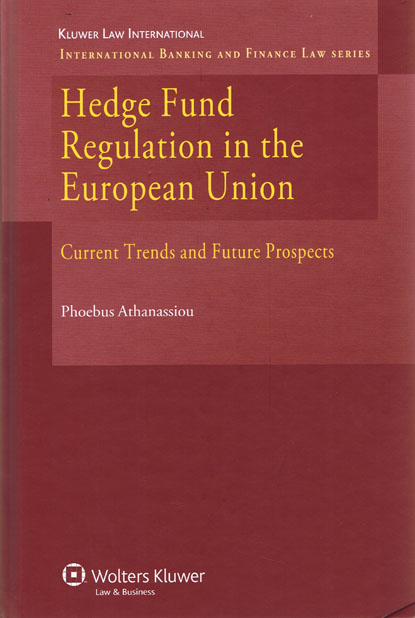 ISBN13: 9789041128560
Published: May 2009
Publisher: Kluwer Law International
Country of Publication: The Netherlands
Format: Hardback
Price: £127.00

While hedge funds have been part and parcel of the global asset management landscape for well over fifty years, it is only relatively recently that they came to prominence as one of the fastest growing and most vigorous sub-sectors of the financial services industry. Despite their growing significance for global and European financial markets, hedge funds continue enjoying a sui generis regulatory status. The ongoing credit crisis and its lessons for the wisdom of unregulated or loosely regulated pockets of financial activity raise, with renewed urgency, the issue of deciding how long for the relative regulatory immunity of hedge funds is to be tolerated in the name of financial innovation.
This well-thought-out book, the first of its kind in this particular field, examines the case for the European onshore hedge fund industry's regulation, making concrete proposals for its normative future. Following a detailed account of the 'established' regulatory systems in Ireland and Luxembourg, as well as of the 'emerging' hedge fund jurisdictions in Italy, France, Spain and Germany, and of the regulatory treatment of hedge funds in the UK, this book examines to what extent the continuing exclusion of hedge funds from harmonized European regulation is defensible, whether their differences to traditional asset management products justify their distinct regulatory treatment and, ultimately, if their EU-wide regulation is possible and, if so, what form this should take.
As the first ever comprehensive account of the profile, main features and normative future of the contemporary global and European hedge fund markets – including a systematic inquiry into the conceptual underpinnings of hedge fund regulation and a detailed examination of the European hedge fund industry's treatment under Community and domestic law – this book represents a major contribution to the literature on hedge funds and their regulation which, through its concrete proposals for the onshore industry's regulation and its clear analysis of the conditions necessary for their implementation, should be of extraordinary value to policymakers, supervisors and academics alike.