Green Innovations and IPR Management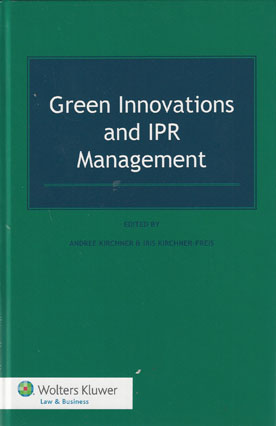 ISBN13: 9789041133441
Published: April 2013
Publisher: Kluwer Law International
Country of Publication: The Netherlands
Format: Hardback
Price: £89.00

There can no longer be any doubt that promoting green innovations is essential if we are to meet the challenges of sustainable development, climate change, and intergenerational equity.
With the maturity of this crucial awareness has come full recognition of the intellectual property rights of green innovators – an area of international law that has drawn a host of initiatives not only from lawyers and legal scholars but also from highly knowledgeable and well-placed authorities such as the World Intellectual Property Organization, the European Patent Office, the United Nations Environment Program, the International Tribunal for the Law of the Sea, the International Centre for Trade and Sustainable Development, the European Commission, and national environmental agencies.
In this first-ever survey and analysis of the current and emerging state of the field, twenty-two outstanding practitioners, academics, policymakers, and officials describe the relevant work of all of these groups. Among the array of topics covered are the following:-
vast diversity of products, services, and processes;
legacy IP measures from R&D in computers and semiconductors;
role of green technology's moral underpinning;
wide-open startup vs. exorbitant up-front cost; and
licensing issues in technology transfer.
Although primarily intended for professionals concerned with the legal aspects of green technology – lawyers, policymakers, agency officials, academics – this book will also be of great value to inventors and technology companies as a guide to mechanisms for managing and sharing intellectual property rights in the context of green innovations. It is sure to engage a wide audience for years to come.