WTO Law: From a European Perspective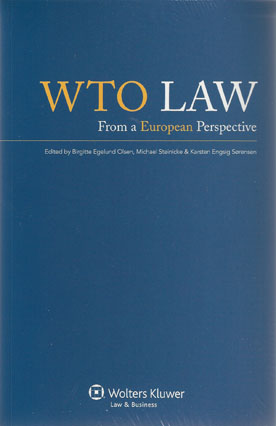 ISBN13: 9789041133588
Published: March 2012
Publisher: Kluwer Law International
Country of Publication: Netherlands
Format: Paperback
Price: £112.00

The European Union (EU) and the World Trade Organization (WTO) share the distinction of having proven themselves as the two most successful large-scale international trade regulation regimes.
This very useful book analyses the core legal concepts and rules that characterise the regulation of trade in the WTO. At the heart of the analysis is a comparison of WTO rules with parallel rules in the EU trade system, revealing how similar trade issues are dealt with in the two systems – a perspective that not only sheds light on how WTO law and EU law interact, but also greatly facilitates an understanding of the special features of WTO law for readers who are more familiar with EU law.
Within this framework, the authors explore such key trade issues as the following:-
dispute settlement;
implementation of judicial decisions and enforcement;
principles of non-discrimination;
trade in goods;
non-discriminatory restrictions as barriers to trade;
exceptions from trade-liberalisation obligations;
trade and environmental protection;trade in agricultural products;
conditions for applying safeguard and anti-dumping measures;
prohibited and actionable subsidies;
regulation of services;
protection of intellectual property rights;
regional trade agreements;
special and differential treatments;
government procurement;
competition policy; and
regulation of investment.
As a timely and accessible analysis of the WTO and its interaction with the EU, this book is sure to be welcomed by international trade professionals, government officials, and interested academics, students, and researchers.