Guide to ICSID Arbitration 2nd ed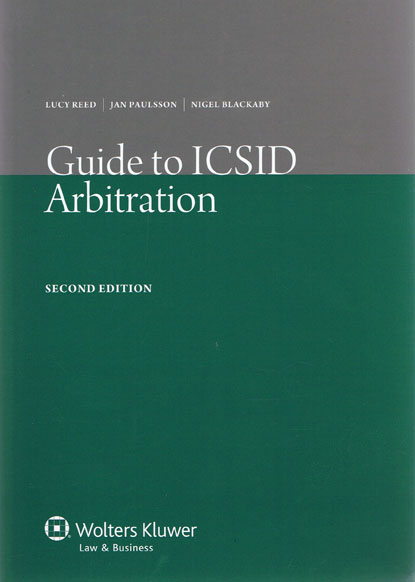 ISBN13: 9789041134011
Published: December 2010
Publisher: Kluwer Law International
Country of Publication: The Netherlands
Format: Paperback
Price: £78.00

This Guide to ICSID Arbitration was written by three leading ICSID arbitration practitioners in the eminent international law firm of Freshfields Bruckhaus Deringer to fill the gap in the literature between generic descriptions and detailed academic commentary.
This second edition of the Guide takes account of the scores of ICSID awards and decisions rendered since 2004, as well as significant amendments to ICSID rules and practices. It provides a sufficiently detailed but still 'user-friendly' understanding of what ICSID arbitration is, when and how it can and should be used, and how an ICSID case works from start to finish.
It offers potential and non-expert users of the ICSID regime - as well as those generally interested in investment treaty arbitration - the essentials of the ICSID Convention and of BITs and MITs, the various sets of rules, ICSID procedure, and the now considerable body of ICSID jurisprudence.
This edition of the Guide includes the following:-
an introduction to the ICSID regime;
the basics of ICSID contractual arbitration and investment treaty arbitration;
a description of the main ICSID rules and how a typical ICSID case develops in practice;
a discussion of the unique features of annulment, recognition and enforcement of awards, with reference to ICSID decisions and awards to date;
selected annexes of basic ICSID documents, along with texts of key and illustrative treaties;
a selected bibliography of resources; and
comprehensive tables of ICSID awards and decisions on specific substantive and procedural issues.
The second edition of the
Guide to ICSID Arbitration
will be of incomparable value to international investors, corporate counsel, businesspersons, government legal advisors, interested lawyers and arbitrators, and students of dispute resolution. Pitched at an ideal level between academic scholarship and introductory texts, it offers participants in all these areas a practical guide to the day-to-day realities of international investment dispute resolution.