Liberalization of Electricity Markets and the Public Service Obligation in the Energy Community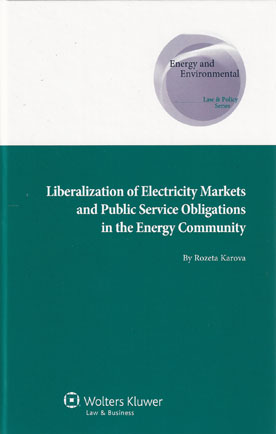 ISBN13: 9789041138491
Published: March 2012
Publisher: Kluwer Law International
Country of Publication: Netherlands
Format: Hardcover
Price: £92.00

This book presents the first in-depth analysis of the export of the EU electricity acquis, through the imposition of an EU-type regional electricity market (REM) in SEE within the enlargement process. Among other germane issues, the author discusses the following:-
The suitability of the European model of electricity markets' liberalization for economies in transition;the use of the Public Services Obligations (PSO) to address the impact of electricity markets liberalization;
The use of regulated prices and measures for granting priority rights for cross-border capacity allocation as PSOs;
The Court of Justice judgement in Federutility on the sustainability of states' protection of their different types of customers, including the large businesses;
The Energy Community as a step towards a Pan-European Energy Community;the effect of simultaneous national electricity markets liberalization and cross-border regional integration of national electricity markets; and the interplay between liberalization policy and reforms and the regulatory tools available to address their impact on provision of public services.
The author's proposed rethinking of the public services obligation offers new views on using this tool more effectively and proposes possibilities for its practical implementation through measures such as energy efficiency, allocation of interconnectors' capacity, transparency, addressing the affordability issue and the protection of vulnerable customers.
The book is remarkable for its clear analysis of the policy lessons arising from the export of the idea of liberalized energy markets, and will be welcomed by practitioners, officials, academics and others in energy law and policy for its informative and forward-looking overview of the national and cross-border reforms in the Energy Community framework.