Introduction to the Unitary Patent and the Unified Patent Court: The (Draft) Rules of Procedure of the Unified Patent Court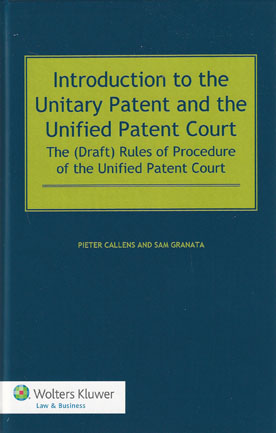 ISBN13: 9789041147578
Published: February 2013
Publisher: Kluwer Law International
Country of Publication: The Netherlands
Format: Hardback & Flowcharts
Price: £100.00

The long-awaited European Unitary Patent and Unified Patent Court will soon become a reality. Companies, research institutions, and individuals will be able to obtain not only a patent title with immediate effect in 25 EU Member States, but also a court decision on (for example) infringement or validity of a European or Unitary patent with effect in the participating Member States.
Everybody involved in European patenting will find enormously welcome guidance in this extraordinary book. Written by two outstanding intellectual property experts – one being a lawyer who had a hand in the development of the unitary patent and the other being a reputed Belgian intellectual property judge – it describes in detail all the provisions regarding the new patent and the new court, explaining their rationales and the processes that led to them.
Although the Rules of Procedure of the Unified Patent Court still need to be finalized and adopted by the Court, the authors already unravel the proposed Draft Rules of Procedure. The book uses flowcharts as well as plain words to represent each procedural stage of the Draft Rules of Procedure. In this way, a practitioner can focus on each distinct stage as required, while also gaining a comprehensive overview of the proceedings. The complex language issues arising throughout the proceedings are analysed in detail in a supplementary part.
For its deeply informed insights into the expected practical functioning of this revolutionary new patent and litigation system, this work is a peerless contribution that will ensure the most effective practice as this new regime begins. For legal scholars, the book offers the opportunity to analyse, criticize, elaborate, and where necessary improve the current Draft Rules of Procedure of the Unified Patent Court before they are finalized, and advise the governments of the participating Member States on how to implement the new court system in their country.