EU Labour Law: A Commentary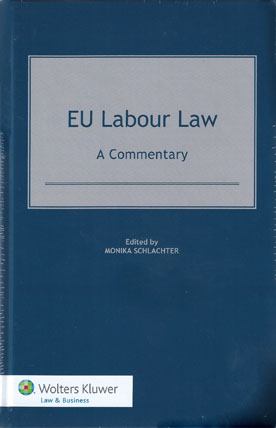 ISBN13: 9789041149787
Published: December 2014
Publisher: Kluwer Law International
Country of Publication: The Netherlands
Format: Hardback
Price: £124.00

Lawyers who apply EU labour law will find here a matchless aid to practice – an article-by-article commentary on each specific piece of EU legislation relevant to arguing labour law cases.
In an utterly practical and straightforward format, the book presents all information necessary to quickly find the best and most complete answer to any question in EU labour law, no matter how arcane or controversial.
Beginning with the relevant provisions of the EU Treaty , the chapters proceed through directives related to equality, conditions of employment, employment protection, and information and consultation. Each complete primary text is augmented with article-by-article commentary by a well known expert in the field of national and EU labour law. Commentary includes the following and more:-
up-to-date relevant case law of the CJEU and national courts;
analysis of the intention of the participating law making bodies;
consequences in specific national legal systems as discussed in legal doctrine in Member States;
analysis of emerging difficulties and proposed solutions for domestic legal systems.
No other single source covers in such detail both the relevant EU provisions and their implementation and judicial consequences in Member States. Obviating the need to search among a range of sources, this one volume saves immeasurable time for legal practitioners and provides academics and business managers with an extraordinarily thorough sourcebook on the current state of EU labour law.