Concise European Trademark and Design Law 2nd ed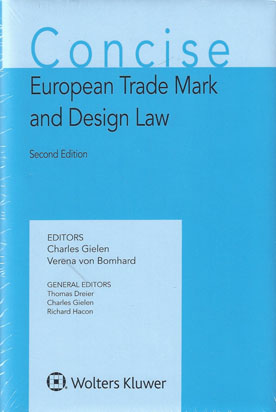 ISBN13: 9789041156662
Published: January 2017
Publisher: Kluwer Law International
Country of Publication: The Netherlands
Format: Hardback
Price: £150.00

In an increasingly globalised and diversified marketplace, the importance of brands and their effective legal protection also across country borders and regions is ever growing. In the last twenty years, trade marks and designs have become truly European.
The EU trade mark has proven a solid and reliable tool of EU-wide protection of intellectual property. National trade marks have maintained their importance to businesses that are active in the EU. The EU Intellectual Property Office and the national IP offices are successfully working on further convergence of practices, and the recent reform of EU trade mark law will bring the systems closer together aligning also important aspects of procedure.
The Community design is taking an ever more prominent position in the protection of intellectual property, and in the daily practice of IP practitioners and courts across the European Union.
However, the expansion of the European Union from 15 Member States in 1996 to currently 28 has triggered further discussion of pan-European trade mark and design protection, its requirements and limitations, and even twenty years of case law of the Court of Justice of the European Union have left – or in fact opened – many questions on the interpretation of the law. Concise European Trade Mark and Design Law aims to offer the reader a rapid understanding of the provisions of trade mark and design law in force in the EU and features:-
Article-by-article commentaries on the relevant European directives and regulations in the fields of trade marks and designs
Short and straightforward explanations of the principles of law to be drawn from each provision
Editors and authors who are prominent specialists (academics and practitioners) in European and international trade mark and design law