Trade Mark Law in Europe: Case Law of the Court of Justice of the European Union 3rd ed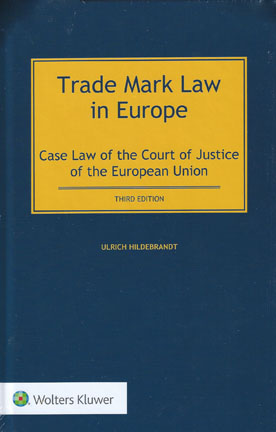 ISBN13: 9789041162199
Published: April 2016
Publisher: Kluwer Law International
Country of Publication: Netherlands
Format: Hardback
Price: £102.00

Trade Mark Law in Europe: Case Law of the Court of Justice of the European Union is the third edition of the previously titled Harmonised Trademark Law in Europe.
It hugely enhances the work of trade mark law practitioners by following the same well known, intensely practical, time-saving format, with each provision of current law (Directive 2015/2436) reproduced in its original English wording and annotated with relevant passages from all relevant decisions of the European Court of Justice (ECJ), as well as relevant provisions of the Community Trade Mark Regulation and the national trade mark acts of all Member States implementing the Directive.
The author's expert commentary on each provision expressly marks major changes to previous versions of the Directive, highlights when case law concerning a previous version remains relevant, and translates passages that lack an official English text.
What's in this book
Among the fundamental questions addressed are the following:-
When is it possible to register a geographical indication as a trade mark?
Are colours and sounds capable of registration?
When may the reputation of a trade mark be invoked to protect it?
How mundane could a sign be and still claim to be distinctive?
When can it be said that there has been no genuine use of a trade mark?
Where does the Court's function theory influence the trade mark law?
Given a topic or keyword, appendices assist in the quick finding of any provision of the Directive and relevant case law.
The complete rulings of the ECJ on trade mark law – about 400 rulings implemented – are provided. A correlation table of Directive 2008/95/EC and Directive (EU) 2015/2436 along with the full text of Directive 2008/95/EC and Directive (EU) 2015/2436 are discussed. In addition, major changes to previous versions of the Directive are expressly marked. The author tries to predict whether case law concerning the previous version may also be relevant for the actual version.
How will this help you:
There is no other resource, like this book, presenting the original wording of ECJ case law, broken down by specific point of law and directly related on an article-by-article basis to EU and Member State trade mark legislation.
This book presents an overview over the status quo and all rulings that might be relevant to ECJ case law, thereby enabling practitioners to remain up-to-date in this field. As a highly organized presentation of key information, this is an ideal initial tool that makes any research into European trade mark law fast and easy, whether for academic purposes or actual legal practice. Lawyers, in-house counsel, judges, and academics will all welcome this new edition.