Shareholders' Duties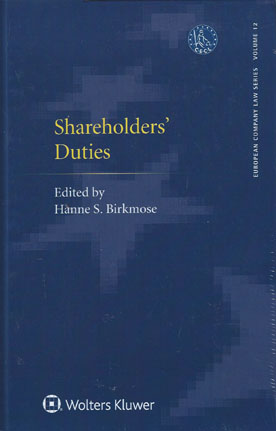 ISBN13: 9789041166708
Published: January 2017
Publisher: Kluwer Law International
Country of Publication: The Netherlands
Format: Hardback
Price: £130.00

Shareholders' Duties provides a systematic overview of shareholders' duties found in European company law and capital market law. It is often assumed that shareholders have rights, not duties.
In recent years, however, this assumption has come under intense scrutiny in all aspects of company law and capital market law – legislation, the courts, soft law, and scholarship. In Europe especially, major changes are under way across a diverse spectrum, all the way from revised contractual arrangements to mandatory statutory provisions.
Such a shift has important implications for the fundamentals of European company law, and there is a need to examine shareholders' duties and consider where this trend is taking shareholders and their stance in law. This focused collection of essays by twenty notable scholars addresses this complex subject from highly informative and useful variety of perspectives.
What's in this book.
Examining shareholders' duties along three axes – types of investee companies, types of shareholders and types of business situations – the essays deal with such topics and issues as the following:-
separation of financial and governance interests;
shareholders' duties as reflections of the interests they are intended to safeguard;
shareholders' duties towards society;
shareholders' disclosure obligations;
duties of parent companies;
institutional investor's fiduciary duty;
how regulation constrains value-reducing forms of opportunism;
the state's continuing duties in the transformation of state-owned companies;
significant shareholders' duties in transactions with the company; and
powerful shareholders' duty not to abuse right.
How this will help you:-
Examining the implications of this shift in discourse – how shareholders' duties are coming to the fore under the impetus of legislation, legal doctrine, case law, and enforcement strategies – as well as its ideological underpinnings, this book offers a comprehensive and in-depth consideration of this rapidly developing field. It serves as a handbook for clarifying and focusing investors' and business leaders' understanding of the recent corporate governance agenda.
This not only helps policymakers and academics but also investors and practitioners committed in creating conditions favourable to sustainable economic growth and responsible business behaviour.