Law and Language in the European Union: The Paradox of a Babel 'United in Diversity'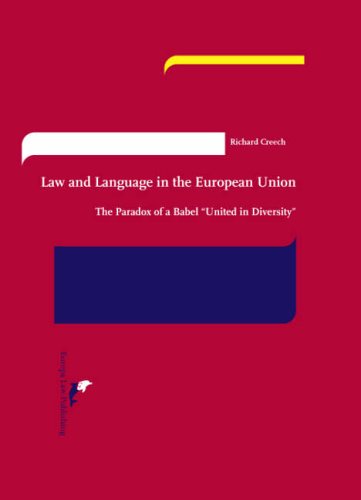 ISBN13: 9789076871431
ISBN: 9076871434
Published: January 2005
Publisher: Europa Law Publishing
Country of Publication: The Netherlands
Format: Hardback
Price: £31.95

The EEC (1957) consisted of six Member States with a combined total of four official languages. By 2004 this organization had evolved into a European Union of twenty-five Member States with more than twenty official languages among them. This increase has presented numerous challenges to the EU's internal linguistic regime.
Some of these languages – English in particular – have been more equal than others, however, and languages such as Catalan and Welsh that lack nation-wide official status in any Member State have been overtly denied equal treatment. Furthermore, the multilingual nature of the EU has had significant implications for any Member State that wishes to regulate the use of language within its territory (on product labels or as a condition for employment, for example), as such regulation can interfere with the rights accorded to citizens of other Member States to participate in free commercial movement throughout the Union.
The European Court of Justice has developed a jurisprudence in cases involving such infringements in which concern for the free movement of goods and workers has failed to allow for an appropriate regard for the humanistic principles that also, and to a growing extent, form part of Europe's legal culture. In these cases, as well as in the disputes regarding language use within the EU's own organs, there has been substantial friction between the competing goals of achieving an economically integrated union on the one hand and honoring the distinctive cultures and languages of individual Member States (and their citizens) on the other.
Endeavoring to achieve both of these aims, the new Constitution for Europe promises a Union that will be "united in diversity." This book examines how, in the linguistic realm, the EU has responded to the tensions that lie behind this paradoxical motto.