EU Energy Law Volume VI: The Security of Energy Supply in the European Union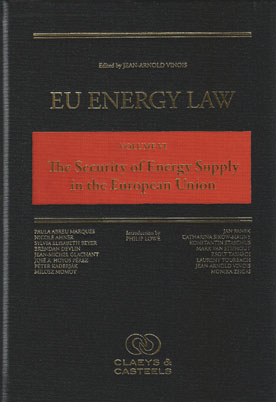 ISBN13: 9789081690423
Published: January 2012
Publisher: Claeys & Casteels
Country of Publication: The Netherlandsum
Format: Hardcover
Price: £247.00

This book examines the latest developments of the European Union's energy policy and particularly the way security of energy supply is taken into account and handled.
As one of the three objectives of the EU energy policy, security of supply emerged as a central element of the policy, after the January 2009 gas crisis and now with the consequences of the Fukushima events. The contributions to the book are made by the most informed people on the various subjects given their professional position.
It analyses the extensive developments of the concept toward energy security, the impact of the third internal market package on its reinforcement and the major role to be played by infrastructures in ensuring physically the security of supply. It will comment the most recent and relevant instruments adopted by the European Union in the eld of oil, the so-called Oil stocks directive, and gas, the Regulation on Security of Gas Supply.
In the eld of electricity, it will report on the experience of the Transmission System Operators working together in the European Network (ENTSO-E) to guarantee security of supply. The external dimension of the EU energy policy will be explained in as far as it aims at security of supply. Three illustrative cases are particularly studied: the Southern gas corridor development, the January 2009 gas crisis and the Baltic Energy Market Interconnection Plan.
The relevant EU legislative texts and the recent communications of the Commission on the subject are appended, to oer the direct references of what is discussed in the various sections.