Sources of Constitutional Law: Constitutions and Fundamental Legal Provisions from the United States, France, Germany, the Netherlands, the United Kingdom, the ECHR and the EU 2nd ed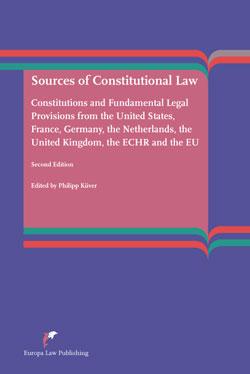 ISBN13: 9789089520906
Published: April 2010
Publisher: Europa Law Publishing
Country of Publication: Netherlands
Format: Paperback
Price: Out of print

This volume contains important constitutional and legislative texts from the United States, France, Germany, the Netherlands and the United Kingdom, as well as provisions from the European Convention on Human Rights and the Treaty on European Union. It helps students to work with, and to cite, written sources of constitutional law from various systems. All texts are reproduced in the original or authentic English or are freshly translated into English under critical editorship. Unlike many other translations, this volume remains true to the content, style and syntax of the original texts. This allows the reader to appreciate not only the substance but also the authentic form – and the beauty of old-fashioned or cryptic language – of constitutional sources.
This second edition not only updates but also expands the first edition. Provisions that had been omitted, for editorial reasons, in the first edition are now included. The Constitutions of the US, France and Germany, the Charter and Constitution of the Kingdom of the Netherlands, and the European Convention on Human Rights are now rendered in full; the French Declaration of 1789 as well as selected institutional provisions from the Treaty on European Union have been added. Selected provisions from electoral codes and UK legislation are again included.
The Maastricht Collection, a larger compilation of legal provisions which is also published by Europa Law Publishing, covers not only public law but also private law.