Summaries of UAE Court's Decisions on Arbitration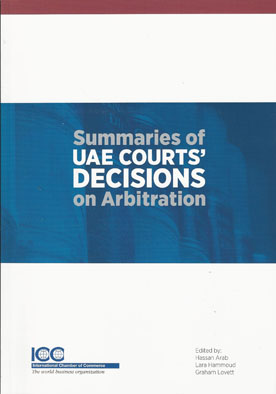 ISBN13: 9789284201938
Published: July 2013
Publisher: International Chamber of Commerce
Country of Publication: France
Format: Paperback
Price: Out of print

Reprinted by Kluwer Law Initernational with ISBN 9789041197580
Summaries of UAE Court's Decisions on Arbitration serves as a readily comprehensible guide to arbitration in the United Arab Emirates (UAE) and addresses the need within the arbitration community for an easier access to UAE jurisprudence.
This collection is the go to guide to important judgments issued over the last 20 years by the Dubai and Abu Dhabi Courts of Cassation, the Federal Supreme Court of Cassation and the Fujairah Federal Court of First Instance. It has been prepared to provide a useful tool for lawyers, arbitrators and other professionals involved or interested in arbitration proceedings in the United Arab Emirates (UAE).
The judgments included in this publication were carefully selected and contain helpful headnotes, which enable the reader to identify, at a glance, the principles of arbitration set out by the UAE courts in the selected judgments.
If you are a lawyer or are preparing for arbitration proceedings in the United Arab Emirates this book will help you cover the most essential parts of UAE courts decisions on arbitration. It it's the absolute guide to a thorough and comprehensive understanding of arbitration-related jurisprudence in the UAE. Image