The Liability of Arbitral Institutions: Legitimacy Challenges and Functional Responses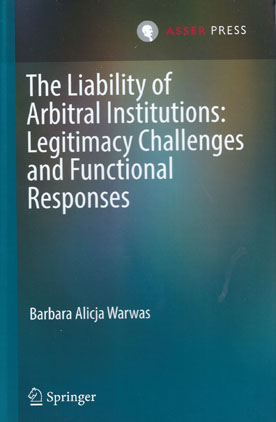 ISBN13: 9789462651104
Published: October 2016
Publisher: T.M.C. Asser Press
Country of Publication: The Netherlands
Format: Hardback
Price: £112.00

This book offers an innovative approach to the topic of liability in international arbitration, a controversial topic that has heretofore not been fully explored in the scholarship.
Arbitral institutions have recently emerged as powerful actors with new functions in and outside arbitration processes. The author proposes to shift the debate on liability from arbitrators to the arbitral institutions.
The book re-evaluates the orthodox understanding of the status, functions, and responsibility of arbitral institutions and is recommended for arbitration scholars, practitioners, and students. It is argued that the current regulations regarding liability are inadequate given both the contractual obligations and the emerging public function of arbitral institutions and that institutional arbitral liability is therefore necessary.
The book also links the contemporary functions of arbitral institutions to recent debates regarding legitimacy challenges in international commercial arbitration. Responding to these challenges, a model of institutional contractual liability is proposed that invites arbitral institutions to proactively regulate the scope of their liability.