EU Energy Law & Policy Yearbook 2013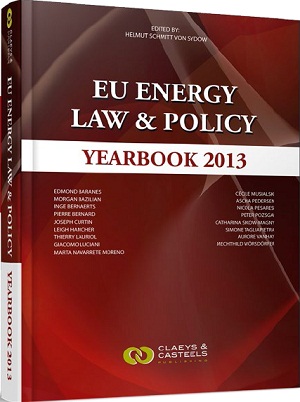 ISBN13: 9789491673191
Published: January 2014
Publisher: Claeys & Casteels
Country of Publication: The Netherlands
Format: Hardback
Price: Out of print

The 2013 edition of the Yearbook adopts a new philosophy. The previous editions were based mainly on the Conferences that Claeys & Casteels holds at the beginning of each year, providing a snapshot of the challenges and expected trends of energy law and policies. This 2013 edition also provides ample documentation of the "best of" of articles of the European Energy journal, recently published books and an overview of important law making and case law during 2013.
The achievements of 2013 are considerable. The Council concluded legislative work on the Regulation for Trans European Network guidelines for energy and on the Directive for the safety of oshore oil and gas drilling. Council and Parliament also reached agreement on 59 nancing programmes in the context of the Union's multiannual nancial framework for 2014 to 2020 and the selection of 248 strategic interconnection projects.
The European Commission published a report on the external aspects of energy policy in the perspective of a pan-European energy market, and in December both Council and the European Council identied the priorities for the Union's internal market, including the eective application and enforcement of European legislation. Apart from nuclear energy, a new sensitive, almost religious, issue dominated discussions, namely shale gas and fracking.
This book provides clear insights by many distinguished academics and high-level ocials from European institutions and industry on emerging developments